Your Bookmark Manager for Mac OS X
Little Bookmark Box lets you easily store and manage interesting links while surfing in the World Wide Web. You have your bookmarks, saved and smartly organized, side by side with your browser. Start adding bookmarks to your Little Bookmark Box today and reduce the clutter in your browser.
Unobtrusively
Little Bookmark Box was designed to work beside your browser, so access or drag and drop your bookmarks is more comfortable. If you don't want to see the window all the time, Little Bookmark Box can automatically hide itself if another app is activated.
Easy Bookmarking
Browser extensions and Bookmarklets are available to make bookmarking easier. You can either just click to add a bookmark to your Inbox or use the creation window to tag, annotate and organize immediately. Of course, drag and drop bookmarks is also fully supported.
iCloud Sync
Little Bookmark Box offers an easy to use, reliable iCloud sync function for keeping your entire Little Bookmark Box library in sync across your Macs.
Live Preview
The built-in "Quick Look" functionality is the perfect way to preview your bookmarked web pages. Simply select one or multiple bookmarks and press ⌘-Y (or Space). That's it! You do not have to open your bookmarks in a browser for viewing.
Smart Boxes
Smart Boxes save you a lot of time and effort. These boxes are like a saved search and are updated continuously, so they always find all bookmarks matching the search criteria. For example, you can create a smart box, to find all bookmarks added or visited in the last week.
Share
Share your links via Mail, Twitter, or Messages. You can even send them, automatically or manually, to Instapaper, Pocket and Pinboard.
designed to work beside your browser
All in one place
Instead of storing bookmarks in multiple browsers or as webloc files on your Desktop, just use the Little Bookmark Box, to store them in one place. Your Little Bookmarks Box is accessible with just one click on the menu bar icon. Anytime. From any App.
No Duplicates
When you add a bookmark to your Little Bookmark Box, it will automatically check for duplicates to prevent bookmarking the same page several times.
Tagging
You can quickly assign multiple tags (keywords) to classify your bookmarks. Tagged bookmarks can be found again by browsing, searching or filtering. The advantage of using tags is that each bookmark can belong to several categories, without copying the same bookmark in multiple folders.
Your Bookmarks
Add a note or change the title of a bookmark to something more descriptive. See the date created, when you last and how often you visited a link easily. In addition, each bookmark remembers the browser selected to open the bookmark. This feature is very handy if you use multiple browsers.
Fast Find
You can quickly browse and open selected bookmarks from the list or simply click on a box and use the bookmarks menu. Enter some text into the search field and the result will be displayed immediately. Or just use type-select to jump to a box or bookmark.
Simplified Navigation
Because a folder hierarchy can quickly become a complicated mess, Little Bookmark Box uses just one level of boxes, and tags instead of folders. This method makes accessing your bookmarks and navigation much easier.
Boxes, Smart Boxes and Bookmarks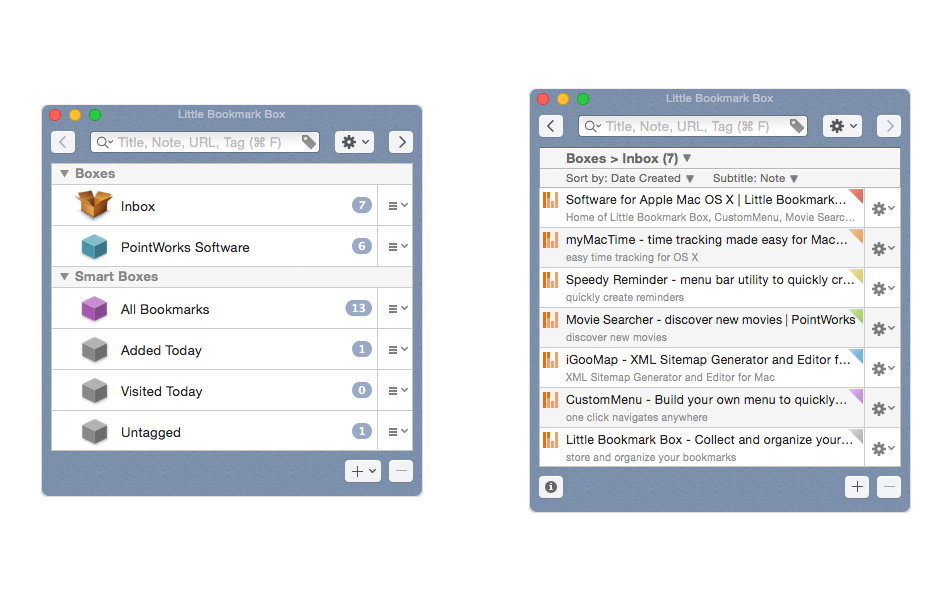 Easy Bookmarking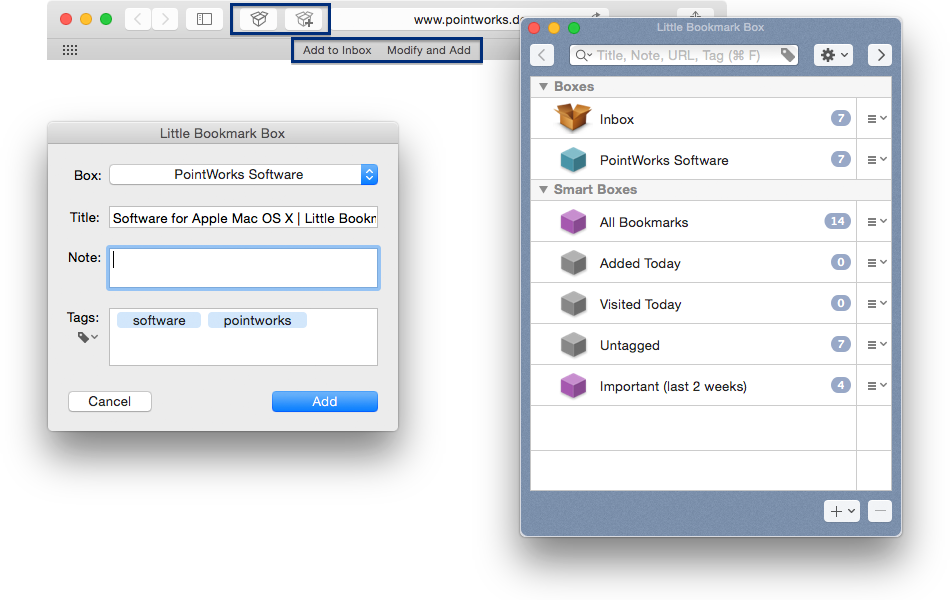 Live Preview
Smart Boxes
Tags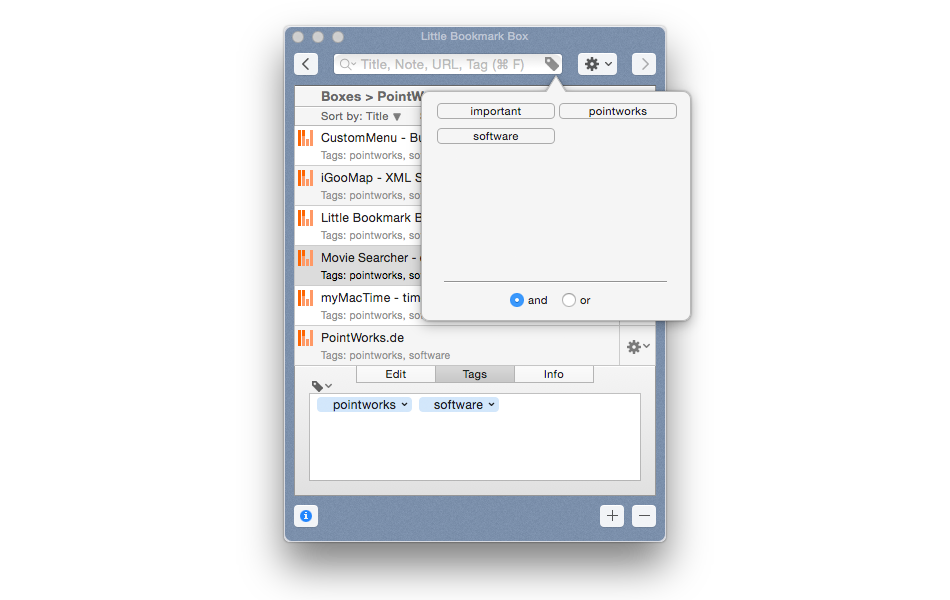 Import
You can import html bookmark files easily. These files are widely supported and can be created by most browsers (e.g. Safari, Chrome, Firefox) and many bookmark services (like Pinboard, Pocket, Instapaper, and so on). If you want to import webloc files, simply drag and drop them to your Little Bookmark Box.
Export
You can either export your entire library or just drag a certain box on the Desktop to export the bookmarks in this box as an html file.
Mac Informer Editorial Review: 5 Stars
To sum things up, Little Bookmark Box is an easy-to-use and capable program that comes in handy if you're dealing with a large collection of bookmarks. This app offers a simple way to organize your favorite URLs, lets you sync them across your iCloud account, and comes with a fair cost.
(Source: Mac Informer Editorial Review: "Little Bookmark Box for Mac, This Mac application helps you manage your bookmarks." Awarded 5 out of 5 stars)
Link via Twitter
The Little Bookmark Box simply rules in terms of being sortable and quickly accessible. When you start to get used to it, you are moving the cursor on the mouse around a lot less, and researching or producing much quicker.
(Source: Keetria.com, Article: "Home Office Productivity Boosters; 5 Apps that can put the 'Can-Do' Attitude in your Den")
Link via Twitter
Free Browser Extensions and Bookmarklets
Requires Little Bookmark Box App
Please open this page in your Safari browser, then click on the following link to download and install the extension:

Little Bookmark Box Extension for Safari

You can confirm the installation in the extensions section of your Safari preferences.
Please open this page in your Chrome browser, then click on the following link to download and install the:
Please open this page in your Firefox browser, then click on the following link to download and install the Add-On.
Firefox 57 or later:
Earlier Firefox Versions:
You can use the bookmarklets with any browser (e.g. Safari, Firefox, Chrome, or Opera). Just drag this links: Add to Inbox Modify and Add to your bookmarks bar.
Then you can click on the "Add to Inbox" bookmarklet to quickly save a URL in your Inbox or "Modify and Add" if you want to select a certain Box, add a note or tags before adding the bookmark to your Little Bookmarks Box.

If you are using Safari, you can also bookmark a page with a keyboard shortcut (CMD-<position of bookmarklet in bookmarks bar>), for example, CMD-1 if the bookmarklet is at the leftmost position, as displayed above.
Little Bookmark Box requires OS X 10.7.5 or later
(Lion, Mountain Lion, Mavericks, Yosemite, El Capitan, macOS Sierra, macOS High Sierra)
Languages: English, German