Quickly access your favorite apps, files, and folders
CustomMenu 3 lets you build your own global menu containing your favorite apps, files, and folders. Once created, you can easily open apps and files or browse folders and access their contents from any app with your CustomMenu.
Easily create your custom menu by:
1. creating one or more groups
2. adding items to your group

3.

done
Within your custom menu, you can:
click to open an app, file or folder
⌘-click to show the app, file or folder in the Finder
browse and access folder contents
option to show hidden files and package contents
view file info (kind, size, created, modified, preview)
open a file once with a specific app


easily switch between running apps
quickly access items you have recently used
File Info and Preview
Shows you the nitty-gritty details of a file and lets you open the file with a specific app.
Clear off a cluttered Dock
The typical macOS Dock contains running apps, often used apps, files, folders, and minimized windows.
By adding items to CustomMenu instead to your Dock, you can keep your Dock clean and clear but still have your favorites instantly and systemwide accessible.
this dock could be yours

Quickly navigate through folders, browse its contents and open items.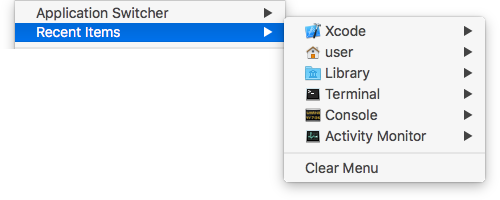 Recent Items Submenu
Remembers the items you've recently opened with your CustomMenu.
Application Switcher
Easily switch between running apps - even in full-screen mode.
Always at your fingertips:
via the global menu
via customizable keyboard shortcut
at the current mouse location
available in full-screen mode